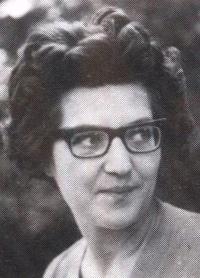 (Budapest, November 25, 1928.)
Took a diploma in ceramic design at the Hungarian Academyof Craft and Design in 1952, under the guidance of masters István Gábor and Miklós Borsos. After another year at the Academy on scholarship, she designed small statues in Herend. Since 1955, works in her own studio, shared with her husband József Garányi, first making small wall pictures, figures, before experimenting with architectural ceramics on a ministerial gant. Her compositions were also influenced by trips to Egypt, Greece and other places, as well as the world of the Biblie, of myths and music. She mainly uses chamotte and concentrates on high relief figurative wall ornaments.
In 1973, she participated in the work of the Siklós cic Symposium.
Member of the Association of Hungarian Artists, Society of Ceramists (1955) and the Hungarian Art Fund later MAOE (1954).