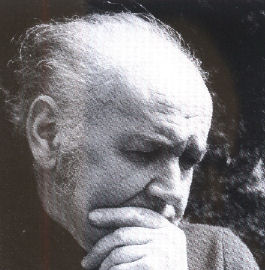 (Csikóstöttös, Baranya country, 3. január 1931. - Budapest, 16. április 1997.)

Learnt art in the Secondary School for Fine and Applied Arts in 1946-50 in Budapest before studying ceramics at the Hungarian Academy of Craft in 1950-56, instructed by Miklós Borsos and István Gádor. After graduation, worked at the Academy on scholarship for a year, became assistant to Miklós Borsos in 1957 and later was appointed to head the department of ceramics (until 1985). After retirement, he went on teaching at the Academy as titular professor.
From the begening he designed building-related unique ceramic pieces. He was preoccupied by space creation from clay, folk art, early Greek constructivity, the plasticity of objects. His first exhibits were folklore inspired thrown glazed figures, then from the late '50s, various small and large-size idols, horsemen and charioteer statuettes of an archaic flavour produced with a variety of techniques came out of his workshop. Still later, he put his oxidated chamotte cross compositions, he also made drawings and paintings. Participated in the Siklós Ceramics Symposium in 1970 and the Senior Symposium of the Kecskemét Internatioal Ceramics Studio in 1996.
Was a member of the Association of Hungarian Artists, Society of Ceramists (1960), the Hungarian Art Fund later MAOE (1956) and IAC, Genf (1970).

- The mark of Csekovszky Árpád